Event - Fall Fish Along 2006
Start Date
Sun 10/1/2006
End Date
Contact
Phone
Email
Once again the waters of Tillamook bay did not disappoint the members of the chapter at our annual fall fish along. Norm and Jolie Ritchie and Nick and Martha Galash hosted this event by putting up many of the participants and feeding them very well.

After an evening of preparing bait including a great chartreuse dye that Norm let me try the folks at Nick's house sat down and shot the bull until it was late. It was nice reconnecting with Nick Galash Jr. whom I hadn't seen since he moved to Seattle several years ago. Finally it was off to bed to dream of big silver fish flopping in the bottom of my boat. The only challenge was getting to sleep before Jeff Stoeger did! Jeff is a legend for shaking the walls with his nocturnal sleeping sounds. The liberal use of several pillows wrapped around my head did the trick but I hear that the folks at Norm's place complained about the noise from Nick's bunkhouse.

We were up early as it was clear that the parking lot at Garibaldi would be full if we got there too late. Mike and I launched my boat and we were ready to go. The only problem? My engine started but then immediately died. Now keep in mind that just the night before I had spent a good amount of time in my driveway making sure that the old '57 Evinrude was running well. So I pulled out the oars and pulled the boat back into an unused slip while I opened the cowling to try to figure out what was wrong. Spark? great. Fuel? seems to be getting fuel. Choke? works right. Flooded? nope. I spoke many foul words at the engine but they didn't seem to work at all. Finally I asked Mike to hand me the second tank of gas in the boat. As I handed the first tank to him I heard its lid rattle. "wait a second!" this motor must have a sealed cap as the tank is pressurized by the engine to push full to the motor. I put the first tank back on, screwed down the cap.... vrooom! Then I hear Norm and Steve across the way.

"Everything OK Eric?"

So not only did I look like a fool but I did it in front of nearly a quarter of the boats in the fish along. This after experiencing a fuel line break last year that ended our day early and made Garibaldi marina look like the Exxon Valdez had been there. Maybe I need a new motor. Perhaps something made in the last 40 years. So the morning started rough but I paid my motor karma early and that nearly 50 year old piece of iron puttered around the bay all day like it was brand new.

The first we saw someone in our party strike chrome was Steve Stewart. Steve himself was having problems with a kicker on Brandon's boat. I figured my motor curse had simply transferred to him. Their boat trolled around the coast guard hole for several hours like we did and then they hooked up and landed a nice 38 lb chinook at the shallow Southeast end of the CG hole. Steve says to me " I was just following you and sticking to the edges".

"huh? edges? margins? wow! this guy thinks I know what the heck I am doing out here! OK go with it!" "Yeah Steve! margins ... uh huh! that's what I was doing all right! Nice fish!" I holler
"you dirty rotten skunk." I say under my breath.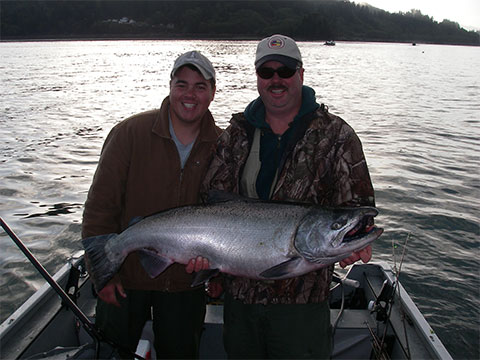 Brandon and Steve with their chinook
Meanwhile Mike and I are doing the Tillamook weed shake. The tidal changes were huge that weekend. Every two minutes we would pick up a wad of weeds. If you don't keep it clean you aren't fishing so we did our level best to keep a fresh bait in the water. One thing we started doing to keep up was to have one rod in the boat pre-rigged with a herring so that if we came up without a herring we could get it back out in a hurry. After wandering aimlessly looking for a fish among the weeds we switched and went to the ghost hole. Now keep in mind I don't normally fish the ghost hole. It seems crowded compared to the coast guard hole to me but the whole bay was crowded that weekend.

We trolled around a while and I pulled up a wad of weeds and a herring that had mushroomed out from the weight of the greenery. I immediately set that rod down and started bouncing back the fresh bait. It bounced once off of the bottom and then something grabbed it!
"Hey whatya know .. fish on" I say to Mike.
.... silence .....
"Mike, fish on!" ....
"huh? where?"
"On the end of my line Mike, I have a fish!"
"You do? Ooooh!" .....

meanwhile I am thinking "geez Mike you don't have to be so surprised! regardless of what some folks like Colonel might tell you I do catch a fish every great once in a while"
So it seems like a small fish and it is coming to the boat pretty quickly and then it decides that it doesn't want anything to do with us and starts running hard. I finally get it back to the boat and it decides it's going to run under the boat. Way under the boat. I stab the rod under the boat and work my way around the stern when it turns and goes the opposite way. Finally we get it to the boat and Mike stabs at the fish and it goes into the net. But when Mike pulls the handle up in the air to close the bag the bag breaks away from the handle end of the hoop and collapses around the bottom of the hoop. Fortunately, the fish is still in the net and I quickly reach down and drag the fish in the boat. The fish weighed in at 23lbs. The netting had broken down over time and a few strands broke and allowed the rest of the net to slide to the bottom of the hoop.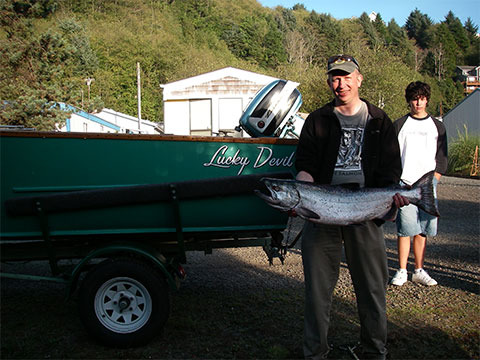 Editor, Eric Neiwert with his fish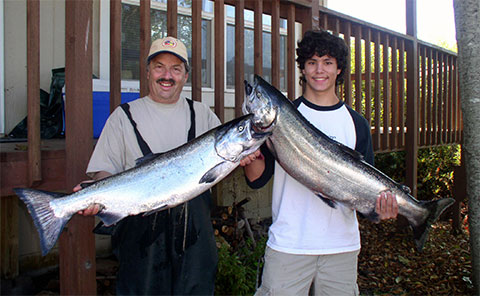 Norm and Collin with their fish.
I spent the rest of the trip trying to convince Mike that it was my special "self closing net". He wasn't buying it and kept mumbling something about getting some "equipment that was younger than he was." We trolled around for several more hours and we were pretty sure we were going to get more fish but they never materialized. We saw Norm heading back with his flag flying so we figured he had a fish or more in the box. So we headed back to Rockaway beach and cleaned up our gear and our selves for dinner. Many a good ribbings went on that evening and of course as is my nature I provided plenty of fodder for the chuckles around the room. Norm Ritchie and Collin Nishitani hooked up in Norm's boat with one fish in the box each. Nick Galash Jr; hooked a fish but lost it when it came unbuttoned.
Everyone had a good time and memories were made. It's events like this that make being a member of the steelheaders fun. Eric Neiwert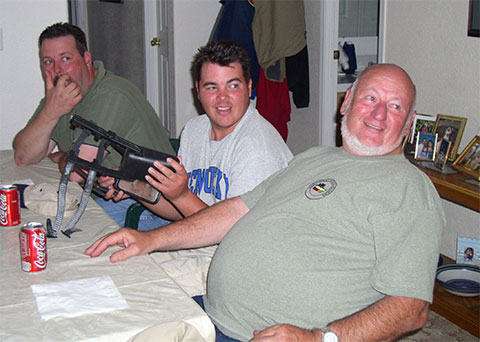 Jerry, Brandon, and Art enjoy the "awards" ceremony.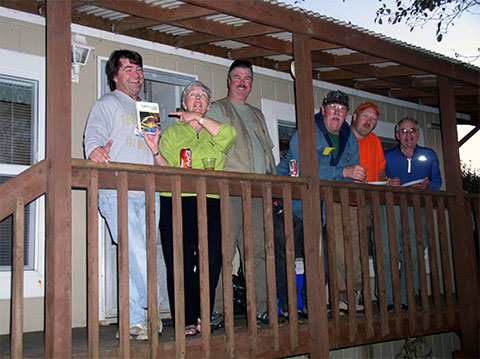 Sharon and company give newcomer, Donny a hard time