Welcome to the website of the Sandy River Chapter of the Association of Northwest Steelheaders.

The Sandy River Chapter was formed in 1964 and is currently located along the shores of the Sandy River in Troutdale, Oregon. Since its inception, this chapter has helped by playing a key role in the development and conservation of sport fishing and is dedicated to improving the freshwater fisheries in the Northwest.

Sandy's members have a wide interest range including but certainly not limited to the following: sponsoring various fishing tournaments and outings, monthly membership meetings, assisting at the Sportsman Show, holding various fund raiser raffles and providing volunteer support for the Hall of Fame dinner and awards banquet in November. There are many other activities that the whole family would enjoy.

We are committed to safeguarding, promoting, and enhancing the social, environmental, and conservational values of sport fishing. Our mission is to take part in "educating the general public on improving, preserving and promoting sport fishing in the Columbia River and their tributary streams and rivers, which include the Sandy."

Be our guest and cruise through our website to learn more about our chapter and how to join this dedicated group. Whether you're a weekend angler, charter captain, or just someone interested in Sandy's scenic views and its fishery, you will find it here.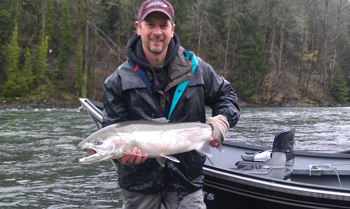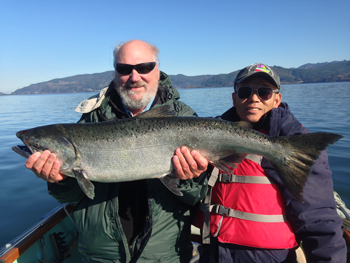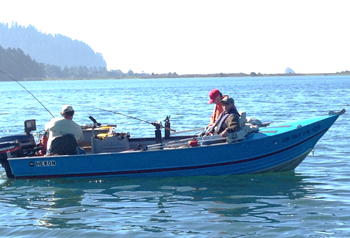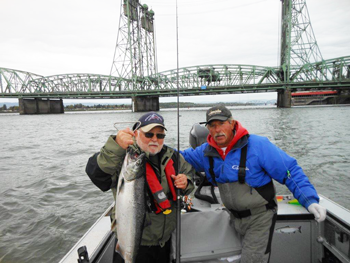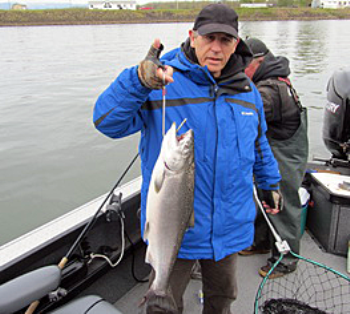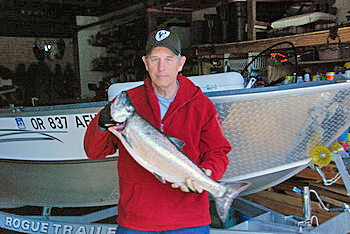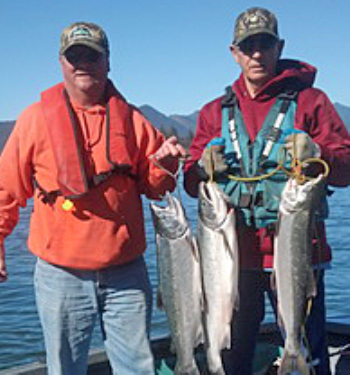 ODFW takes action to help native fish
by Unknown
on 7/16/2015

Hey Gang

Sometimes it's tough to keep up on fishing regulations or changes.

I thought I would pass this on so that you know the recent changes and don't get a ticket or hurt the fish that are struggling right now. From ODFW:

In Summary - No fishing on most rivers in Oregon after 2PM.

ODFW takes action to help native fish

http://www.dfw.state.or.us/news/2015/july/071615.asp

Thursday, July 16, 2015

SALEM, Ore. – The Oregon Department of Fish and Wildlife has curtailed fishing hours on most of Oregon's rivers to avoid additional stress on native fish already suffering from high water temperatures and low stream flows from this year's drought.

Effective Saturday, July 18, and until further notice, all waterbodies defined as streams in the 2015 Oregon Sportfishing Regulations are closed above tidewater (where applicable) to fishing for trout, salmon, steelhead and sturgeon from 2 p.m. to one hour before sunrise.

Angling for these species will be prohibited at all times in the Willamette River downstream of Willamette Falls, including the Clackamas River up to the Interstate 205 Bridge, the Multnomah Channel and the Gilbert River. The following sections of the John Day River will also have complete closures: The mainstem of the John Day River above Indian Creek near Prairie City; the Middle Fork of the John Day River above Mosquito Creek near the town of Galena; the North Fork of the John Day River above Desolation Creek and Desolation Creek.

Some streams will remain open for angling under normal hours because they are less prone to high water temperature risks due to springs, tides, cold water releases from some dams and high elevations.

Streams that will remain open for angling under normal hours are:

Northeast Zone:
The Wallowa River above Sunrise Road; Lostine River above Pole Bridge Campground; Prairie Creek; Hurricane Creek; Spring Creek; and all streams within the Eagle Cap Wilderness Area.
Southeast Zone:
The Malheur River and its tributaries; the Owyhee River below the Owyhee Reservoir; and the Blitzen River and its tributaries above Page Springs Weir and Bridge Creek.
The Klamath River and its tributaries.
Central Zone:
The Deschutes River above Macks Canyon; the Metolius River; the Fall River; the Crooked River (from mouth to Bowman Dam); and Tumalo Creek.
The Hood River and its tributaries and the White River and its tributaries.
Willamette Zone:
The McKenzie River and its tributaries; the Middle Fork of the Willamette River below Dexter Dam; the Middle Fork of the Willamette River and its tributaries above Lookout Point Reservoir; and Alton Baker Canoe Canal.
The mainstem of the South Santiam River below Foster Dam; Quartzville Creek; the North Santiam River above Detroit Lake; and the Breitenbush River.
Southwest Zone:
The mainstem Rogue River from Fishers Ferry upstream to William Jess Dam and all tributaries upstream of the William Jess Dam and Lost Creek Reservoir.
Angling in the mainstem Columbia River and mainstem Snake River is not affected by today's action, and angling hours in these areas will remain under normal regulations at this time. However, a Columbia River Compact/Joint State hearing is scheduled for 2:00 p.m. on Thursday, July 16 via teleconference to discuss curtailment of recreational catch-and-release sturgeon fishing upstream of Bonneville Dam on the Columbia River.
"Earlier this month, we indicated that if these drought conditions continued, we may have to close or restrict some fisheries," said Mike Gauvin, ODFW's recreation fisheries manager. "These are difficult, but necessary actions to protect native fish already suffering from extreme drought conditions."
"This doesn't mean that all fishing has to stop." According to Gauvin, most streams will still be open in the early hours when water temperatures are cool, and there are many great fishing opportunities in lakes, reservoirs for hatchery stocked rainbow trout, warmwater fish like, smallmouth bass or crappie, as well as all of the ocean fisheries.
"As extreme weather events become more frequent due to climate change, we need to be prepared for the stress these conditions will have on fish, wildlife and their habitats," Ed Bowles, Fish Division Administrator said. "Planning for the effects of these changing climatic conditions presents a unique challenge for us, yet we are committed to doing our best to enhance resiliency to climate change and avoid significant impacts on our natural resources."
ODFW already implemented emergency regulations on several other rivers. In addition, trout stocking schedules and locations have been adjusted and some hatchery fish have been released early as a result of high water temperatures. Elevated water temperatures have led to salmon, steelhead, and sturgeon deaths in several rivers.
Gauvin encourages the public to report sightings of stranded fish, or other wildlife distressed by drought, to the department and to take precautions when fishing during these drought conditions.
On days when temperatures soar, anglers can do their part to reduce the stress on fish by adopting the following measures:
Fish early in day when water temperatures are cooler.
Use a thermometer to check water temperatures frequently. Stop fishing when temperatures exceed 70 degrees.
Consider changing locations to high elevation lakes or shaded streams near headwaters. These places are often cooler.
Use barbless hooks so you can release fish easily without harming them.
Use the appropriate gear and land fish quickly. The longer the fight, the less likely the fish will survive.
Keep the fish in the water when you unhook it and cradle the fish upright until it revives enough to swim away.
Use your judgement. If conditions where you want to fish seem especially severe (low, hot water), consider fishing somewhere else where water conditions are better.
Check the regulation update pages on the ODFW website before you head out to make sure temporary emergency regulations have not been put in place for the waters you want to fish.
Gauvin recommends anglers check the weekly Recreation Report on the ODFW website for updates on stocking, water conditions and boating access.
In addition to fish and fishing related actions, the dry, warm weather could increase the danger of wildfires. Wildland fires can destroy hundreds, sometimes thousands, of acres of habitat. Late season fires may also affect hunting season dates, hunting opportunities and the condition of winter range for deer, elk and other species. Fewer water holes means wildlife will have to travel farther for water. Leave wildlife access to water by not camping at water sources.
Less water will also increase competition for placement of hunting blinds amongst hunters. Setting up a blind at a water hole is a common and lawful practice but hunters are asked to be extra considerate of other hunters and wildlife this year. Also, follow land manager's regulations and don't set up blinds too early or leave them indefinitely. BLM allows hunting blinds to be up for 10 days. U.S. Forest Service requires a permit and also has a time limitation.

The Bureau of Land Management does not allow camping within 300 feet of water sources; U.S. Forest Service rules vary by forest and area.

See the Oregon Department of Forestry's webpage for latest fire restrictions and check their Corporate Closure page for information about access to private timberland, or call the landowner.
In the effort to raise awareness of the dire conditions that Oregon faces this summer, Governor Brown's office has created a website for more information,www.drought.oregon.gov, and launched the "#ORdrought" campaign.
Calendar of Events
Meeting Place
We (normally) meet the first Wednesday of every month at 7:00 PM.
We don't normally meet in July (when we do our picnic) or August.
The public and guests are welcome!
Glenn Otto Park
Sam Cox Building
1208 Historic Columbia River Hwy
Troutdale, OR 97060
View Larger Map