Welcome to the website of the Sandy River Chapter of the Association of Northwest Steelheaders.

The Sandy River Chapter was formed in 1964 and is currently located along the shores of the Sandy River in Troutdale, Oregon. Since its inception, this chapter has helped by playing a key role in the development and conservation of sport fishing and is dedicated to improving the freshwater fisheries in the Northwest.

Sandy's members have a wide interest range including but certainly not limited to the following: sponsoring various fishing tournaments and outings, monthly membership meetings, assisting at the Sportsman Show, holding various fund raiser raffles and providing volunteer support for the Hall of Fame dinner and awards banquet in November. There are many other activities that the whole family would enjoy.

We are committed to safeguarding, promoting, and enhancing the social, environmental, and conservational values of sport fishing. Our mission is to take part in "educating the general public on improving, preserving and promoting sport fishing in the Columbia River and their tributary streams and rivers, which include the Sandy."

Be our guest and cruise through our website to learn more about our chapter and how to join this dedicated group. Whether you're a weekend angler, charter captain, or just someone interested in Sandy's scenic views and its fishery, you will find it here.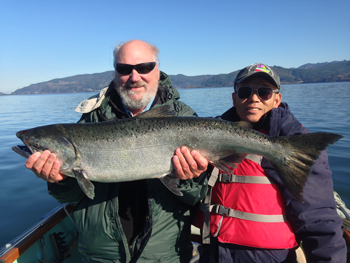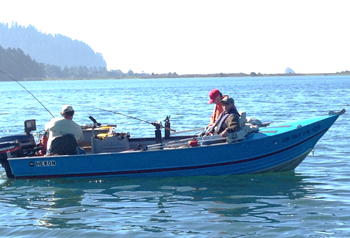 Sandy Chapter Member, Russ Nishitani Passed Away Unexpectedly
by
Norm Ritchie
on
2/26/2014
Those of us who knew Russ Nishitani have lost a great friend.
The Sandy chapter has lost a member who epitomized and exemplified what is best about NW Steelheaders and what it means to give back to our sport. Russ passed away in his sleep in the evening, on 2/25/14. He was born 7/20/1946. His passing was a shock to his wife, Sandy and son Collin and daughter Alison. Joli and I are sure this is also shocking to all of us who knew him. Russ was one of those people who if you knew him, you considered him a friend – one of a kind.
Russ has been a great sport fisherman from a very young age. He didn't join the Sandy Chapter to learn to fish, but to give back to the resource. In fact he participated in a chapter project before joining! In spite of living in Tualatin, he showed up at river cleanups and other events for many years. Russ and his wife Sandy could always be counted on to help when ever asked. Sandy often helped Joli and Kathryn at Sandy Chapter meals and picnics. Aside from the in stream projects, Russ also helped out with meals. He was good at the barbeque grill.
Several of you have asked about attending a service.
There will be a Remembrance of Russell Nishitani on Sunday, March 9th at 12 noon at the home of his Brother. The address is 4028 Orchard Drive, Lake Oswego, OR 97035, (971) 506-9982. This will be a very casual affair and I hope you can join Sandie, Allison, and Colin.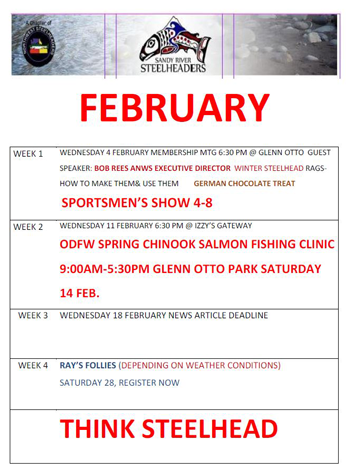 Russ got this Chinook during a Sandy Chapter Tillamook Fish-Along.
Calendar of Events
Meeting Place
We (normally) meet the first Wednesday of every month at 7:00 PM.
We don't normally meet in July (when we do our picnic) or August.
The public and guests are welcome!
Glenn Otto Park
Sam Cox Building
1208 Historic Columbia River Hwy
Troutdale, OR 97060
View Larger Map